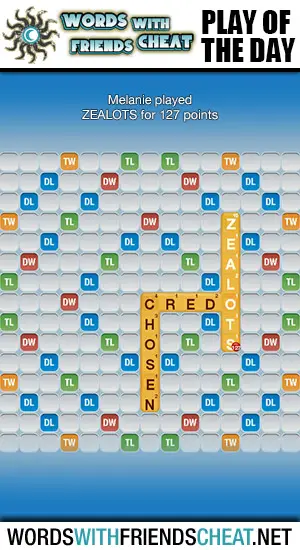 Today's Words With Friends – Play Of The Day is ZEALOTS (127pts) and was submitted by Words With Friends Cheat user Melanie.
We can learn much from Melanie as such a play could have only come from a seasoned master. Someone time tested and experienced in the art of mercilessly shaming their opponents. A true war of the words artisan. Frankly, Melanie has the art of victory down to a science and before her opponent even knew what was coming, she dropped her "Z" bomb on triple letter city. She then continued in this violent and unforeseen attack by emptying the rest of her cache in its entirety; thus activating the seven letter and double word bonuses. This game was over before it even began.
Zealot (noun):
1. a person who shows zeal.
2. an excessively zealous person; fanatic
3. (capital letter) a member of a radical, warlike, patriotic group of Jews in Judea, vigorously resisting the efforts of the Romans and their supporters to heathenize the Jews.
Read More about the Words With Friends Cheat – Play Of The Day
Like Play Of The Day on Facebook
Follow Play Of The Day Pinterest Board
Follow Play Of The Day on Twitter