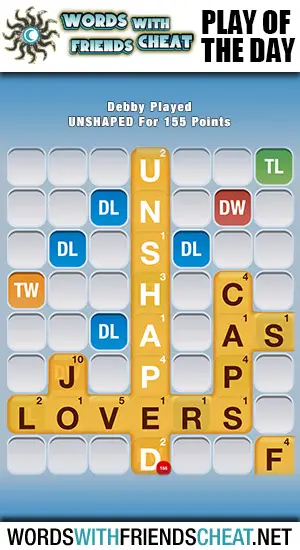 Today's Words With Friends – Play Of The Day is UNSHAPED (155pts) and was submitted by Words With Friends Cheat user Debby.
Contrary to the title's suggestion, this play was well shaped and executed with great precision. Using the double word, triple word, and triple letter tiles, Debby unleashed a powerful play that most certainly resulted in a blow to her opponents strategical confidence.
UNSHAPED:
Origin
Unknown (1565-75)
adjective
1. Not shaped or definitely formed.
Read More about the Words With Friends Cheat – Play Of The Day
Like Play Of The Day on Facebook
Follow Play Of The Day Pinterest Board
Follow Play Of The Day on Twitter