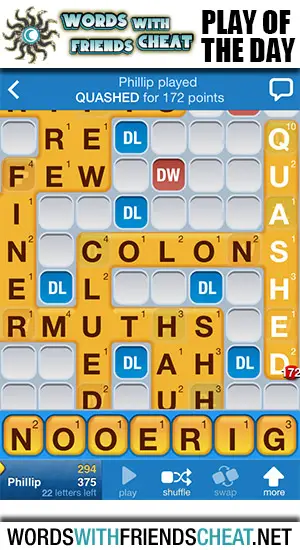 Today's Words With Friends – Play Of The Day is QUASHED (172pts) and was submitted by Words With Friends Cheat user Phillip.
Everything that could have gone well here did. Phillip used all seven letters in his rack, activated a triple word, and placed a ten point tile on a triple letter space.
Quash:
verb (used with object)
1. to put down or suppress completely; quell; subdue:
"to quash a rebellion."
2. to make void, annul, or set aside (a law, indictment, decision, etc.).
Read More about the Words With Friends Cheat – Play Of The Day
Like Play Of The Day on Facebook
Follow Play Of The Day Pinterest Board
Follow Play Of The Day on Twitter