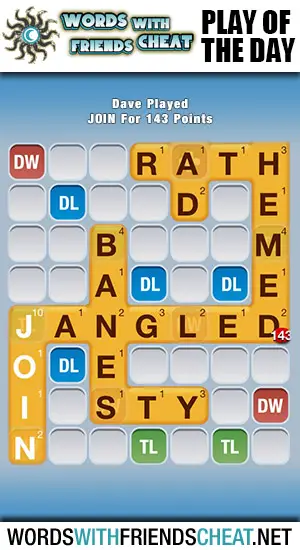 Today's Words With Friends – Play Of The Day is JOIN (143pts) and was submitted by Words With Friends Cheat user Dave.
Dave's play fell on top of a set of triple letter and triple word tiles, also using its ten point "j" to link up with JANGLED.
JOIN:
Verb (used with object)
1. to bring in contact, connect, or bring or put together.
to join hands; to join pages with a staple.
2. to come into contact or union with
The brook joins the river.
Verb (used without object)
1. to come into or be in contact or connection:
a place where cliffs and sea join.
Noun
1. a joining.
2. a place or line of joining; seam.
Read More about the Words With Friends Cheat – Play Of The Day
Like Play Of The Day on Facebook
Follow Play Of The Day Pinterest Board
Follow Play Of The Day on Twitter