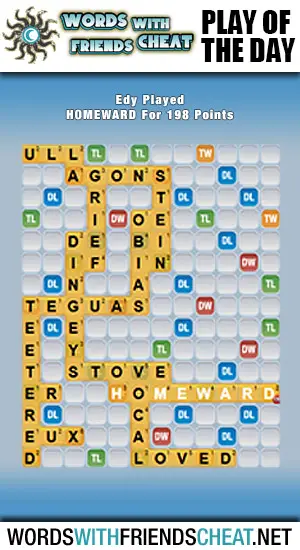 Today's Words With Friends – Play Of The Day is HOMEWARD (198pts) and was submitted by Words With Friends Cheat user Edy.
Today's featured play is a powerful one that we all can learn from. Laying her word over a triple word, double word and double letter, Edy also used all seven letters to secure the added thirty five point bonus. Lastly, Edy used her "H" to create "OH" and her "M" to create "EM"
HOMEWARD:
adverb
1. Also, homewards. toward home.
adjective
2. directed toward home:
his homeward way.
Read More about the Words With Friends Cheat – Play Of The Day
Like Play Of The Day on Facebook
Follow Play Of The Day Pinterest Board
Follow Play Of The Day on Twitter