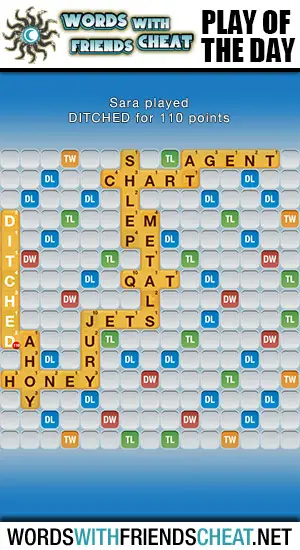 Today's Words With Friends – Play Of The Day is DITCHED (110pts) and was submitted by Words With Friends Cheat user Sara.
In this ambitious play Sara found the best possible placement for her word; right on top of two triple letter tiles and a triple word tile. She also used all seven letters in her rack which earned her the thirty five point bonus!
Ditched (verb):
1. Slang.
a. to get rid of: I ditched that old hat of yours.
b. to escape from: He ditched the cops by driving down an alley.
c.to absent oneself from (school or a class) without permission or an acceptable reason.
Read More about the Words With Friends Cheat – Play Of The Day
Like Play Of The Day on Facebook
Follow Play Of The Day Pinterest Board
Follow Play Of The Day on Twitter