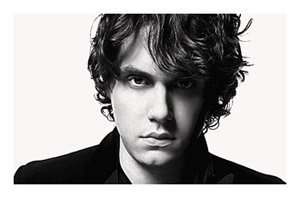 Much like the two guys in the Geico commercial, if you haven't heard of the latest gaming craze, Words With Friends, you've been living under a rock. We can now officially add this mobile gaming app to the list of things that are John Mayer's fault.
The increased cost of gasoline…….John Mayer's fault.
Ineffective Congress on Capitol Hill………….John Mayer.
Hurricane Irene……….yep……..John Mayer.
In all seriousness, there is a backstory behind the John Mayer blame game and it goes like this…
In 1996, two guys named Tony Goodman and John Boog-Scott decided to start a video game development company, called Ensemble Studios. Their first release was Age Of Empires and Microsoft smelled-blood and immediately locked them into a publishing contract. Ensemble then released several expansion packs and managed to generate a loyal following and healthy buzz for their games. Microsoft eventually had no choice and purchased them in 2001. Once the purchase was complete, Age Of Mythology and Halo Wars were released. In 2008, the economy began to take a downturn and Microsoft announced that they were shutting Ensemble down. Halo Wars would be their last project.
Microsoft managed to keep a few of the Ensemble developers, but the brothers chose to cash in their chips, stay in their home state of Texas and start up a fresh entity, called Newtoy. The difference between Ensemble and Newtoy was like night and day. While Ensemble was committed to console gaming, Newtoy ventured out into new terrain with the new mobile app development field.
The brothers first release was Chess With Friends. Unbeknownst to them, they managed to tap into a concept that proved to be revolutionary for the industry – social based gameplay. The brilliance of Chess With Friends was that you could play against someone you didn't know or someone you did know without even being in the same room or near the computer, for that matter.
Striking while the iron was hot, Newtoy released Words With Friends, only 8 months later. Once this new app was released, the downloads figures were not what they had hoped for, so they immediately developed their next app, called We Rule. Getting worried, they were hoping We Rule would at least break-even and quite possibly turn a profit.
Worried that their new development company was going to crumble before it even got started, the Bettner brothers entered panic mode and started stalking their servers, monitoring gaming activity every-hour-on-the-hour, as if they would will their existing portfolio of games into profitability.
Enter John Mayer . . . .
About a year before the pop singer gave up his Twitter account, he was up to the 3.7 million follower mark. In one tweet, the man with his finger on America's tweeting pulse, saved Newtoy. In the infamous words heard around the world, John Mayer tweeted . . . . .
"Words With Friends is the new Twitter."
While this was happening in Hollywood, the Bettner brothers are back home in Texas, staring at their computer screens watching with amazement as their download numbers began to soar. In disbelief, they did some searching around and were able to piece together the puzzle of why their Words With Friends app was taking off.
Thanks to Mayer's tweet, several things unfolded:
Zynga purchased Newtoy (Dec. 2010) and changed the name to Zynga With Friends
Words With Friends tops 12 million downloads
Words With Friends debuts at the Android Market (Feb. 2011)
Zynga launches the app on Facebook Connect and Facebook
Zynga sends 10 lucky winners who played Lady Gaga's word of the day, to one of her live shows
So, it looks like we have John Mayer to thank for the fun phenomenon of Words With Friends. Without him tweeting about it, you and I probably would never have heard of this app and the Bettner brothers would have found new jobs.