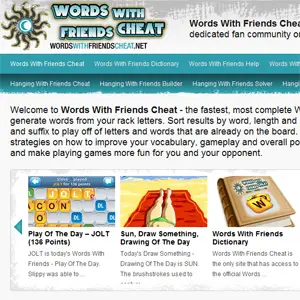 Welcome To Words With Friends Cheat 2.0
Due to the overwhelming response from our loyal visitors, we have improved the website's functionality for convenience and improved performance. We will be featuring articles about strategy, word building scenarios and news/events in the world of Words With Friends.
The new site features a brand new design and layout that is much more user friendly, more strategy and cheat articles and, in the future: forums for users participation, a mail list sign-up and screenshot upload to share your biggest point plays.
We have archived the old site for anyone that would prefer to revert back to the old interface. If you are one of our regular visitors and would like to still use the old site, Click Here
Thank you for using WordsWithFriendsCheat.net and feel free to leave comments or feedback on new improvements you would like to see on the site.